We have all heard of distracted drivers, multi-tasking workers and the flood of new ways advertisers have found to get attention.
65 % of those surveyed, describe themselves as "very" or "insanely" busy.

Day Runner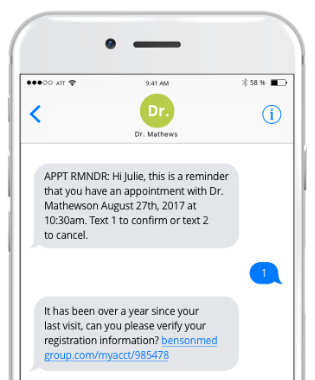 Healthcare practices face an ever increasing loss due to these very patients making and then not keeping their appointments.
Patients are busy, especially mothers, and practices have to help.
There is no substitute to more communication with patients to reduce no-show rates.
---
1 Start early
Start reminding patients at least a week before their appointment. This is especially important if the appointment was made more than 3 weeks ago.
Even if the patient cancels, there is still a week to fill this time slot again.
Want to enforce that broken appointment fee? More reminders, starting early on, give leverage to the practice in collecting.
2 Multi channel
A fancy way to say use more than 1 method to communicate with patients.
Email, phone calls and texts are all great ways to remind patients and offer a way to respond.
Marketers know that the same message, seen in different ways, is a key to success.
3 Make it personal & relevant
Short, relevant messages are superior in today's limited attention span world.
When, where and with whom are elements to include. A map for new patients, or an update on new parking options, are bonuses
Even include specific instructions for different appointment types.
4 Respect their time
Doctors can run late for a variety or reasons. Patients respect practices that will contact them ahead of time when this happens.
This is a process that builds value with patients over time, and it is absolutely worth it.
Knowing that the doctor is on time is a powerful draw to keep patients paying attention.
5 Have them 'invest'
Ask patients for their information before the appointment using online forms.
Forget downloading PDF forms. Use a live form that collects discrete data and transfers that back to the practice management system.
If patients put in work before hand, they have more at stake if they cannot make it.
Online forms also give a great impression of an organized practice when most others are still handing out a clipboard and causing delays.
Bonus: Payments too!
Ask patients for card on file when asking for new patient information (don't start with this as mandatory) or when asking returning patients for updates.
Convenience in payment is valued by consumers. Card on file makes it easy and further cements the mutually beneficial relationship feeling.
What would a practice look like that has 25% of patients using card on file?
Automation is the key
The increase in communication does need an increase in work for the practice. With automated triggers and communications of all types available, practices can spend less and reduce no-shows too.
Learn more
How do our clients reduce no-show by up to 50%?
See our post here, The best way to reduce no show appointments